WordPress 5.0 comes with Gutenberg – the new content editing platform that serves as the default replacement for the classic editor. I'm starting to get a feel for it as most themes now include built-in support for Gutenberg. In this article, I will show you 6 best Gutenberg optimized WordPress themes that have been modified specifically to let you do more with the new editor.
Authority Pro Theme
Authority Pro perfectly highlights your knowledge, years of experience, and acquired wisdom. Even if it's early in your journey toward building expertise and trust, this carefully-constructed design will accelerate how quickly your audience grows.
Visit Authority Pro theme page
Essence Pro Theme
Essence Pro is a beautiful, clutter-free theme for sites in the health, wellness, and lifestyle niches. Designed for simplicity, both at the exterior and on the back end, allowing you and your readers to focus on the essentials.
Magazine Pro Theme
Put yourself on the front lines of online publishing with the up-to-the-minute, high-gloss look and feel of the Magazine theme. Your online features never looked better than with the versatile layouts and media-ready design of the Magazine theme. A stylish frame speaks volumes about the publisher.
Infinity Pro Theme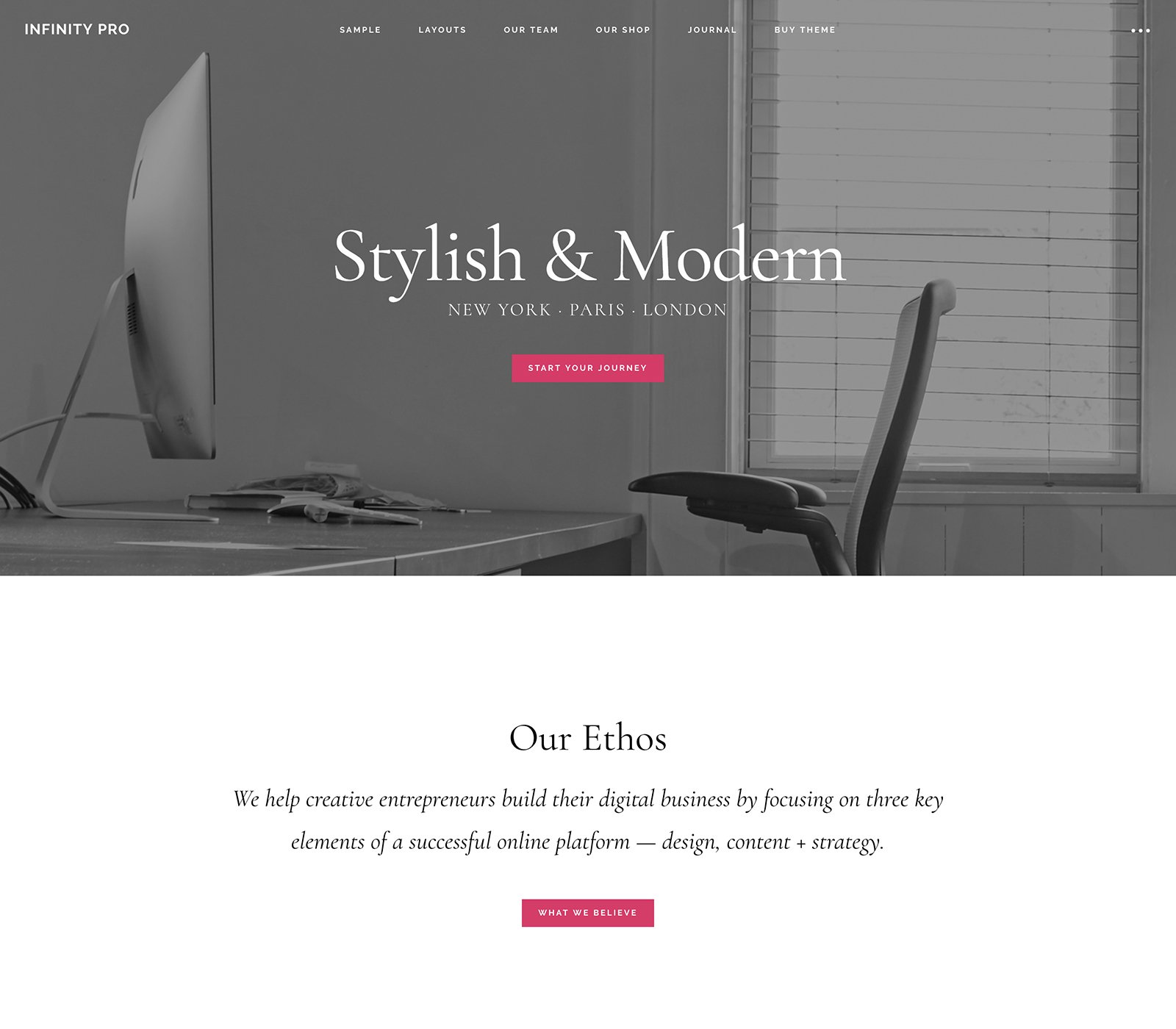 If you're a digital business looking to elevate your brand, Infinity Pro is made for you. It's an elegant, responsive way to introduce your online presence. All of the options are packed into Infinity Pro to customize your customer's experience, it's also one of the most flexible StudioPress theme releases to date. It's compatible with WooCommerce.
Monochrome Pro Theme
Want a website that's substantial but simple? You should see the sleek difference that white space and typography make in minimal design with Monochrome Pro. If having a visually strong digital presence and an easy-to-use site are equally important to you, then Monochrome Pro is the Genesis-powered theme you've been waiting for.
Visit Monochrome Pro theme page
Breakthrough Pro Theme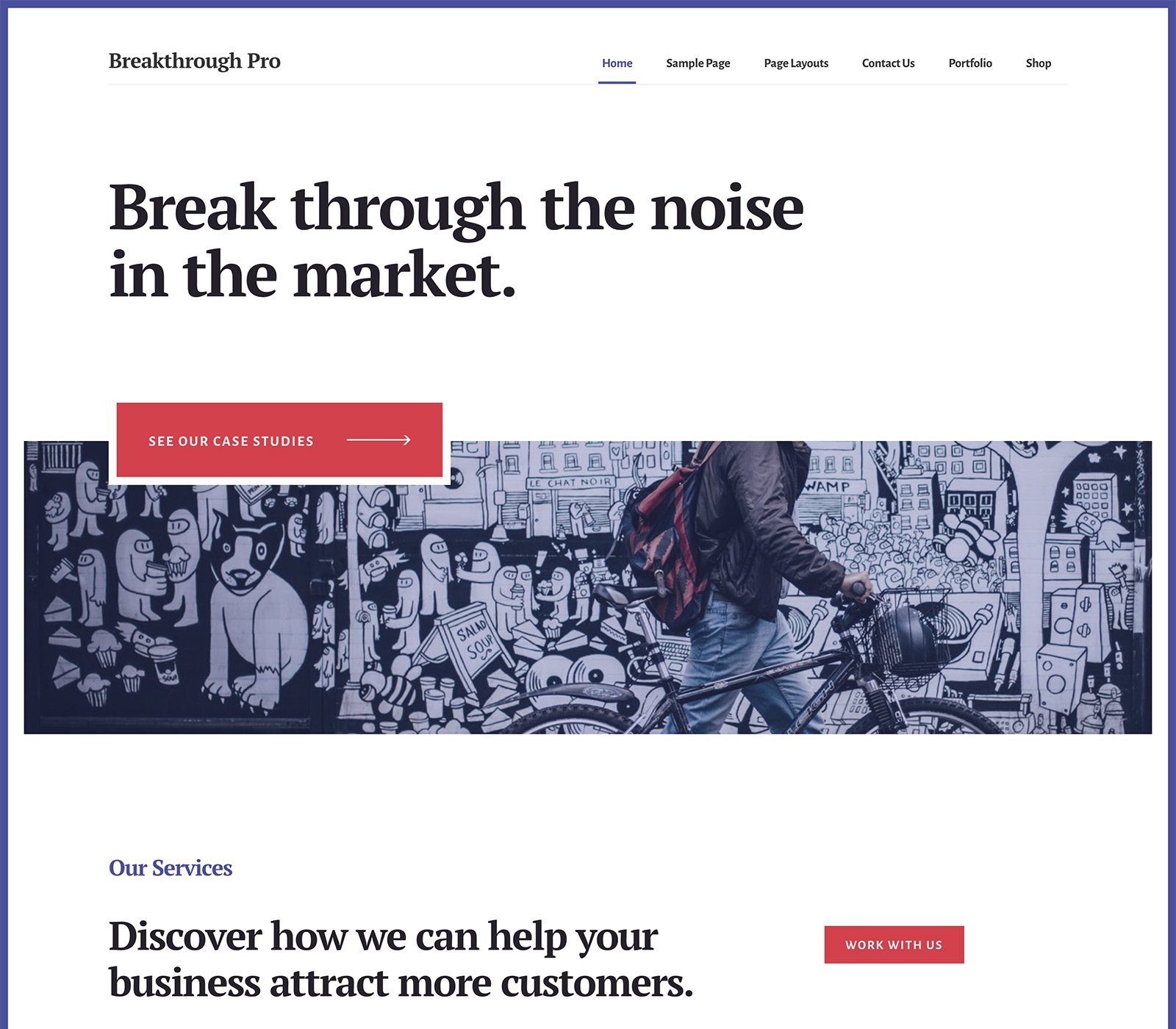 Breakthrough Pro combines a palette of beautiful colors and minimal design in a sleek, modern layout for an advertising or marketing agency. It demonstrate your work, services, creativity, and more – perfect for your next breakthrough moment.
Visit Breakthrough Pro theme page
Features
As I have mentioned before these 6 themes include built-in features and advanced Gutenberg support to help users get the most out of the new editing experience. With that in mind, these six themes now all include:
Easy access and control of branding features. Now you can quickly make changes to block color palettes and font styles.
Custom styling and default Gutenberg block styling that all work with the full range of available editor widths to save you time when building sites.
Effortless editing and page building so you can see what your site will look like on the front-end when creating and editing in the back-end.
Theme Options
Use options to get up and running in minutes and start customizing your new site with just a few clicks of the mouse.
eCommerce
This is a flexible eCommerce theme that is pre-styled for WooCommerce so you can easily set up your online store.
Theme Customizer
The theme customizer allows you to tweak the theme's settings, colors, and content and see a preview of those changes in real time.
Widget Areas
Build up your site with 4 widget areas that you can customize to fit your brand.
Customizable Header
Upload your own logo with the press of a button. Full support for text-based logos for those just getting started.
Mobile Responsive
Each theme is mobile responsive, meaning your website will be perfectly optimized for every browser, device, and screen size.
For more information check out the theme page here.