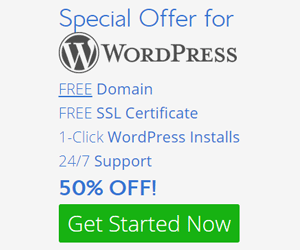 As you may have heard thousands of webmasters, developers and entrepreneurs have been moving from GoDaddy to a different host in the last couple of years. They were so tired that they started searching for GoDaddy alternatives and many didn't hesitate to switch to expensive hosting either. The main reasons why there were so exhausted were GoDaddy's expensive renewal plans, cheap overloaded servers, and poor customer service. In this "GoDaddy Alternatives" review, I'm going to compare some of the web hosting alternatives to GoDaddy.
GoDaddy has been out there for a long time since they are known to attract new customers by offering cheap domains and web hosting plans.
GoDaddy always offers new domain names for as cheap as $9 per year but when it's time to renew the very next year, they may charge 3 times of the initial amount. This tactic may have worked for them by bringing in a few customers initially but it is not working for them in the long run.
GoDaddy Web Hosting Alternatives
When It comes to GoDaddy alternatives I will recommend what the WordPress officials are recommending:
Now let us look at the best 3 GoDaddy Alternatives.
1. BlueHost
Bluehost was founded in 2003 and is a web hosting company owned by Endurance International Group (EIG). It is known provide efficient, reliable and affordable web hosting services.
Bloggers, webmasters, and entrepreneurs can host their blogs and websites without worrying about hacking or data theft. If you are comparing Bluehost and GoDaddy, you will realize BlueHost has better-performing servers, effective customer support and also offers affordable renewal packages.
Speed tests conducted by SEO webmasters have shown that BlueHost offers good page loading service.
BlueHost is known for fast customer service & the quality of their service is irreplaceable.
They have affordable renewal offers as well as affordable first buy options.
With Bluehost, you get a free domain name which means you don't have to keep paying for your domain every year.
Why is Bluehost a good GoDaddy alternative? Here's why:
CloudSites
There's nothing which worries a website owner more than website downtime. It can cause your website to lose customers and have a negative impact on your website ranking. Bluehost resolves this issue with CloudSites. This makes sure that when there is a hardware failure, their failover technology automatically will show a copy of your site on another server ensuring zero downtime.
GoDaddy does not have anything close to CloudSites. They offer cloud servers which are intended for tech-savvy webmasters. It's too complicated to use for normal users and expensive as well.
Resource Protection
In case of shared hosting, there are situations when some websites start using excessive resources (during traffic spikes) which can affect the performance of other websites hosted on the same server. Bluehost, with their technology, can temporarily reassign these excessive resource websites to isolated systems. This way your website performance is never affected.
Unfortunately, this type of system is not available with GoDaddy.
E-Commerce Hosting
If you are planning to run an e-commerce site Bluehost might be a good choice for you. Bluehost offers a dedicated hosting suitable for running WooCommerce – the #1 e-commerce plugin for WordPress for creating an online store. Since it offers direct WooCommerce hosting, you don't have to spend time installing it.
With GoDaddy, you have to get the hosting first then install WordPress and WooCommerce to get started. It's just a waste of time and efforts and the servers are never fully optimized to run WooCommerce on it.
Visit the Bluehost WooCommerce hosting page for more information.
Inbuilt Content Delivery Network
Cloudflare is one of the best Content Delivery Network (CDN) solutions out there. CDN increases the performance of your website by serving content to your visitors from various servers around the world. Even if your website's server is located in Los Angeles, a New York user will see the website copy which is residing on a server near New York. This significantly reduces the lag due to distance and your website is up to your users even when it's down.
Bluehost has Cloudflare built directly into them and you can enable it on any of your websites without writing a single piece of code. Unfortunately, this feature is not available with GoDaddy.
Pricing
Affordable pricing is a good reason go with Bluehost. All the above features actually mean nothing if there is no balance between the price and the features. Regular Bluehost prices are way cheaper than GoDaddy by a good margin.
And here's how they compare feature wise,
| | Starter (Bluehost) | Economy (GoDaddy) |
| --- | --- | --- |
| Price/mo. | $2.95 | $3.49 |
| Free domain | Yes | Yes (only if you pay annually) |
| Sub Domains | 25 | 25 |
| Parked Domains | 5 | No |
| Email Storage | 500MB | 5GB |
| FTP Accounts | Unlimited | 50 |
| Refund Period | Anytime | 30 Days |
| Discount | 65% Off | 56% Off |
In order to get maximum discount on Bluehost and a Free Domain,
Activate Bluehost Discount Coupon NOW
2. SiteGround
SiteGround is the second best alternative of GoDaddy. They are based out of Sofia, Bulgaria and were founded in 2004. SiteGround is known for providing quality shared hosting, cloud hosting and dedicated hosting. They have an excellent A+ rating and because of that, they have received numerous industry awards. There is a detailed analysis of their performance in this SiteGround web hosting review.
Why is SiteGround a good GoDaddy alternative? Here's why:
Free SSL Certificate
When you host your site on SiteGround you get a free SSL certificate with it. This lets you serve content to your visitors securely in HTTPs. Your website also gets SEO benefits and ranks better in Google search.
Free SSD Drives
All hosting plans on SiteGround are powered by Solid state drives (SSD). For those who are new to WordPress, SSD hard drives do not have any moving parts. So the speed of writing and reading data is much faster. What does this mean to the end user? Well, your website will load faster when you compare it with GoDaddy website hosted on normal hard drives.
Free Daily Backup
You don't need to worry about data backups with SiteGround hosting. It will be automatically done daily for free. Whereas in GoDaddy this is a paid option.
Free Cloudflare CDN
CDN stands for Content Delivery Network. When you host your website on SiteGround you get access to premium Cloudflare CDN For free. That means your website data will be served to your visitors from Cloudflare CDN, increasing the page load time significantly and preventing your site from DDoS attacks.
And here's how they compare feature-wise:
| | StartUp (SiteGround) | Economy (GoDaddy) |
| --- | --- | --- |
| Price | $3.95/month | $3.49/month |
| Free Site Transfer | Yes | No |
| 24/7 Support | Yes | Yes |
| Free App Installs | Yes | Yes |
| Free Email Accounts | Yes | Yes |
| Unmetered Traffic | Yes | No |
| Free SSLs & HTTP/2 | Yes | No |
| cPanel & SSH | Yes | Yes |
| Free Website Builder | Yes | No |
| SSD Storage | Yes | No |
| Free Daily Backup | Yes | No |
| Free Cloudflare CDN | Yes | No |
| Unlimited MySQL Databases | Yes | No |
| Discount | 60% Off | 56% Off |
In order to get maximum discount on SiteGround and a Free SSL certificate with SSD storage,
Activate SiteGround Discount Coupon NOW
3. A2 Hosting
A2 Hosting is the third best alternative of GoDaddy. The best thing about A2 Hosting is that they offer a free SSL certificate and SSD drives even for shared hosting.
A2 Hosting plan offers unlimited storage for everything. You will have access to unlimited email and hosting space. You are not bound to pay extra for more space and when compared to GoDaddy. The renewal packages are very much affordable as well.
Unlimited SSD storage for everything in one plan.
Free SSL certificate which costs at least $49
Secure and reliable servers which are A2 optimized. Serious entrepreneurs prefer A2 Hosting to GoDaddy and every other hosting server.
Uploading and running WordPress on A2 Hosting is easier when compared to GoDaddy.
A2 Hosting has introduced money back offers for unsatisfied clients. A client can cancel the hosting services anytime and receive a full refund.
And here's how they compare feature-wise:
| | Lite (A2 Hosting) | Economy (GoDaddy) |
| --- | --- | --- |
| Price | $3.92/month | $3.49/month |
| Free SSL Certificate | Yes | No |
| SSD Storage | Yes | No |
| Free Cloudflare CDN | Yes | No |
| Refund Period | Anytime | 30 Days |
| Discount | 50% Off | 56% Off |
In order to get maximum discount on A2 Hosting and a Free SSL certificate with SSD storage,
Activate A2 Hosting Discount Coupon NOW
Conclusion
If I were to choose from any of the above alternatives, then I would probably go with Bluehost.
Why?
Because Bluehost offers a perfect balance between performance and cost. Not to mention their excellent Customer Support.
But as I always say, there is no "Perfect Web Hosting" company. You need to find the one which suits your need.
if you find this GoDaddy alternatives article useful, feel free to let me know which alternative you decided to switch to in the comments below.
Do you know that you can get

50%

OFF WordPress hosting here for a limited time? Hurry now before this offer ends!
3 Best GoDaddy Alternatives in 2017