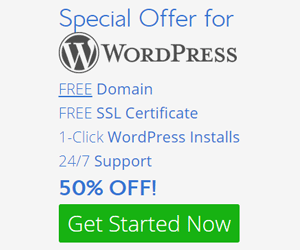 Having your own web presence is essential in today's online world. Everyone now seems to have their own pages on sites such as Facebook, Twitter, and many other social networks. But the problem is that these free site-building services can come and go, change the rules without notice, and impose restrictions. Some free services can shut your site down if they don't approve your content.
Many will clutter up your site with trashy ads and your free site can disappear overnight if the service goes bust or gets taken over. And they offer little or no technical support when you really need it.
Do I build a website on my own domain?
Yes, with your own privately registered domain and hosting account, you own and control the website, no-one else. You can put whatever you like on your site (within the bounds of legality), make it look how you want and no-one can tell you otherwise. You are your own boss. And, with your own website, you can build your own distinctive brand, whether you are a small business or a community group, an individual, or whatever. You can make your site look and behave how you like, whether or e-commerce, or for publicity purposes, as an information resource – or just a personal blog.
Your domain becomes your very own exclusive web address, your own piece of online virtual 'real estate' that plays its part in publicizing your mission or message.
These days, if you don't have your own online web presence, you are invisible.
You can create an email address on your domain, print your domain address on your business cards, add it to your email signature and quote in all your offline literature.
Your own website on your own domain gives you identity, visibility and, indeed, status.
Do I need a professional web designer to build a website?
No, definitely not. This was once the case in the early days of the internet because only a few tech-savvy geeks knew and understood the web language (HTML) that translated your words and pictures into the code that browsers understand.
But as technology has advanced, so have the tools to build websites become more accessible. WordPress is one of these tools.
How much will it cost?
Peanuts. The only thing you absolutely have to spend money on is a domain and the services of a web hosting company that will host your website for you. You can get this for the cost of a couple of cappuccinos a month.
For this price, you can get your web hosting account from one of the leading WordPress hosting companies, wherever you are in the world and in your local currency.
Of course, you can spend money on other tools and services if you want, but, for a simple website that you build yourself, you really don't need to spend any more money than that.
What is WordPress?
WordPress is a powerful and free package of software that sits in the background on your web server (the remote computer where your content is hosted) and performs all the technical processing that delivers your content to your visitors on their laptops, tablets, phones or whatever devices they are using.
Once WordPress is installed on your domain you don't need to do anything to make it work. It just sits there and performs its magic entirely behind the scenes.
WordPress provides a WYSIWYG editor interface to you, that bypasses the need to know any HTML, PHP, CSS, JavaScript, MySQL or any other coding language.
Once the hangout of hobbyists and bloggers, WordPress has now evolved into a powerful and sophisticated web platform that supports a host of features both for professionals and do-it-yourself webmasters.
The term "blog" and "website" are not effectively synonymous as far as our usage of WordPress is concerned. Pundits use the two terms interchangeably because the technology platform behind both is exactly the same.
WordPress is now actually used by some of the major players on the internet as a complete content management system (CMS). Think CNN, the library of Congress, Vogue, Renault, The New Yorker, Time.com, Smithsonian Museum, Tribune Media – they all use WordPress as part of their internet presence.
And, in addition to the experts, millions of ordinary people and small businesses around the world also use WordPress as their platform of choice to make their appearance on the web.
What is so special about WordPress?
WordPress is FREE and open-source
WordPress is stable and maintained by an army of experts
WordPress contains numerous behind-the-scenes features that make creating your own website a breeze
WordPress is wonderful, but it has a reputation of being difficult. This is in part, due to the documentation.
WordPress was originally written for programmers, for programmers, and the instructions are often written in tech-speak and seem to assume that you know that they are talking about in the first place. This has improved in recent versions, but it can still be a challenge if you are not a fully paid-up techie.
In this tutorial, I just concentrate on the basic essentials of WordPress and ignore all the complications that you don't need to know when you are first starting out.
WordPress.com vs WordPress.org
Before we begin, let me explain the difference between these two versions of WordPress. WordPress.com is a free site-building tool offered by Automattic Inc, the company that invented and runs WordPress. It was originally offered as a blogging platform but it now hosts sites of many different varieties. On WordPress.com you get free web hosting and a slightly restricted version of WordPress. So why not go for free? The difference is that you don't own the site – WordPress does.
And they have restrictions as to what you can put on your site and how you can build it. Yes, you can buy a domain and use it to redirect to your WordPress.com site but your website is still not totally under your control. And they will put ads on your site unless you pay them not to do so.
So, to be your own boss over your own website or blog you need to use the full version – WordPress.org – which serious webmasters all use.
Register your domain and sign up for web hosting
This is the first step to getting your own web presence. But before we begin, let's get some definitions out of the way. A "web hosting company" is an organization that runs a number of large, fast computers which are connected to the Internet and on which they rent out space to customers. So you, as a customer, pay them a few bucks a month or year as rent to host your website.
A "server" is one of the web hosting company's supercomputers on which your website will be stored and which serves up your content when people visit your website.
Having a reliable company to host your website is an essential investment and it doesn't cost mega-bucks. Once you have your hosting account setup you can forget all about the very complex communication technology needed to support your website because you are paying somebody to provide it for you.
I will recommend the hosting company that I personally use because I think it is the very best option for those just starting out.
If you have never done any of this before and you are big intimidated by all the jargon and tech-speak, don't panic. There is a mass of incomprehensible gobbledygook associated with web hosting and Internet technology but the good news is that you don't need to understand nor care about the most of it.
Let me take you by the hand and in this lesson, I will explain just what you need to do to get started. To coin a cliche, it's not rocket science. Trust me.
Choose your domain
Ok, to begin, you need to decide on a domain. Your domain name is your unique web address and it's what people will type into their browser to reach your website. So it's a good idea to make it a name that's easy to remember and easy to spell and that tells people what your website is all about. So what sort of domain name should you have?
It's better to have a domain like "bigfastmotors.com" rather than "xyz101.com" because it spells out to the word precisely what your site is about. But your domain could be your own name or nickname, or your business name or maybe a slogan that describes your mission.
The .com extension is the most universally recognized extension to a domain name, but you could also have one of the other traditional extensions such as .net, .co, or .org, the latter especially if you are a non-profit organization. And there is now a whole new range of domain extensions which may suit your requirements: .cool, .buzz, .tips, .tools etc. Plus, there are the country-specific domain extensions such as .uk, .au, .de – it's your call. As you can see, there are plenty of choices available to you.
If you don't already have a domain, you can register your chosen domain at the same time as you sign up for web hosting.
Sign up for web hosting
The hosting company that I recommend you sign up to is called SiteGround. If you visit that link you will get through to their WordPress page, which is where you need to start.
What's so special about SiteGround?
You get your domain free when you sign up
They install WordPress for you so that you don't have to do it yourself
They have servers in North America, Europe, and Asia and you can choose which one suits you
They are manned by some serious WordPress experts and their technical support is excellent
You will get invoiced in your own currency
Trust me, I have been around and I can tell you that there are plenty of web hosts that are nothing sort of garbage and I don't want you to get caught out by choosing the wrong one.
As you are starting out, I recommend that you go for the shared hosting "StartUp" plan. This allows you to host one website and it is the cheapest option. You should be able to get this for under $4.00 a month and there are often special offers making it lower than this.
If you know that you will want more than one domain and website on your account then go for the "GrowBig" plan. But if you are not sure, then the best option is to start with StartUp and upgrade later.
You will get the option to register a new domain or transfer one that you have already. Then you will be prompted to choose which server you want: USA, Europe or Asia. Experts usually advise that you select the server nearest to your home country. That way you will be invoiced in your local currency and there could be SEO advantages.
And, the next most important step, this screen will pop up to invite you to have WordPress pre-installed on your account. (If this screen doesn't come up immediately, look for the "WordPress Services" tab and click down to find it).
This last step is important as it will save you time and, potentially, hassle. if you click on "Get WordPress preinstalled on this account" then it will all be done for you.
When you have finished signing up, check your email. You will receive a message from SiteGround with your account sign-in and password. It's a good idea to keep this email or even print it out so that you have a record of your hosting details.
Done it? Congratulations, you have taken the first big step and there is no looking back.
I already have a domain that I registered with another registrar. Can I still use the domain with SiteGround?
Yes, but you must change your domain's Domain Name Servers (DNS) to indicate where your website will be hosted.
This is necessary so that the domain name system can translate your domain name to a specific IP address that identifies the server that hosts your website. I admit that sounds a bit technical but it's really quite simple.
All you have got to do is change two fields on your domain registrar's screen and you are done. But read on to do things in the right sequence.
First, follow the instructions above to open a SiteGround account but instead of choosing a new domain, click that you already have a domain and tell them what it is. They will then create your account under that domain and install WordPress for you.
Second, you will receive a welcome email with all the details you need to get started. This will include the details of the name servers applicable to your chosen web hosting plan. This will be a pair of codes that look like NS1.xxxxx.com and NS2.xxxxx.com. You usually need to use both codes so make a note of them.
Finally, you will need to log into your account at the registrar you used when you registered the domain. Click through to find your domain properties and there should be somewhere fairly obvious on their screen labeled "Nameservers", "Set your DNS" (or something like that). Enter the two codes you web host supplied and save the settings.
The changes may take place immediately or you may have to wait serveral hours before you can access the domain at your hosting account. This is because the information has to propagate out to all the networks on the Internet that need to know where to find your website and this is not always immediate.
If you can't find out how to change your DNS then try accessing yoiur registrar's FAQ page or knowledgebase. If all else fails, contact their Tech Support and ask them to help.
The .com domain I want is already taken. What should I do?
There are basically two options: 1) use the same domain name but choose a different domain extension, or 2) choose a different domain name under the .com extension.
If the case of 1) above you should consider whether visitors could get confused between them. If you register tomsmith.net you wouldn't want your visitors to mistakenly go to tomsmith.com.
The better idea would be to choose a different domain name, for example, tomguysmith.com. That makes it your unique domain.
I have a domain and hosting account where WordPress is not preinstalled. What should I do?
Next (Part 2): How to Install WordPress on Your Web Hosting Account
Do you know that you can get

50%

OFF WordPress hosting here for a limited time? Hurry now before this offer ends!