Paid Memberships Pro is a free WordPress membership plugin that allows you to sell memberships and manage a complete membership system by providing restricted access to members-only content.There are a lot of good membership plugins out there so It always comes down to what you value the most in a membership plugin. One great thing about Paid Memberships Pro is that it's absolutely free for you to use. On top of that you get all the basic and essential components of a membership system.
Paid Memberships Pro plugin has been out there for a long time. So it's code is pretty stable compared to other membership plugins. As the plugin was designed to provide additional functionality via extensions you don't really need to worry about the stability of the core plugin at this time or in the near future.
Here is the current stats of this plugin:
Active Installs: 50,000
Compatible up to: The latest version of WordPress
Requires: WordPress 3.5 or higher
Supported Payment Gateways
Stripe
Authorize.net Automated Recurring Billing (ARB)
PayPal (Standard, Express, Website Payments Pro and Payflow Pro)
Braintree
CyberSource
2Checkout
Free Addons
Aweber Integration: This addon integrates with Aweber by adding members to lists based on their membership level.
bbPress Integration: This addon integrates with bbPress by restricting forum content based on membership level.
Constant Contact Integration: This addon integrates with Constant Contact by adding members to lists based on their membership level.
Email Templates Admin Editor: This addon allows you edit/modify membership email from your admin dashboard.
Hide Admin Bar from Non-Admins: This addon limits access to the dashboard and the admin bar so only the admin can view it.
Infusionsoft Integration: This addon integrates with Infusionsoft by adding members to lists based on their membership level.
KISSmetrics Integration: This addon connects your website to KISSmetrics to help you track user data.
MailChimp Integration: This addon integrates with MailChimp by adding members to lists based on their membership level.
MailPoet Integration: This addon shows a checkbox on the checkout page so users can subscribe to your MailPoet newsletters.
Register Helper: This addon allows you to collect additional meta data from membership checkout and user profiles.
WooCommerce Integration: This addon integrates with WooCommerce by allowing you to sell memberships as products.
PMPro Plus Addons
Member Admin: This addon allows you to add an eligible manager for creating user, configuring membership settings and orders.
PayPal Express Checkout: This addon adds PayPal Express Checkout as a payment option.
Purchase Access: This addon allow you to sell access to individual pages for a flat fee. This is useful if you want to allow multiple membership levels per user.
Advanced Level Shortcode: This addon allow you customize the membership level page with different shortcode attributes.
Lightweight Affiliate Tracking: Create affiliate accounts and track checkouts by affiliates.
Better Login, View & Visit Report: Add reporting functionality to your membership report screen which shows the stats for login, view and visit.
Name & Address Capture: This addon allows you to capture the name and address for free membership levels or offsite payment gateways.
Check Payment level: This addon adds various customizations when a user pays for a membership by check.
Custom Level Cost Text: Customize the level cost text generated by Paid Memberships Pro plugin.
Custom Post Types Membership Access: This addon adds a "require membership" checkbox to all custom post types and automatically redirect non-members to selected pages.
Developer's Toolkit: This addon adds tools for development sites that are using Paid Memberships Pro plugin.
Disable All Emails: This addon allows you to disable all or specific emails sent by Paid Memberships Pro plugin.
Donations: This addon allows users to enter a donation amount during checkout.
Email Confirmation: When this addon is enabled, a confirmation link will be sent to the user via email in order to verify their membership.
Price Comparison
| | Free | PMPro Core | PMPro Plus |
| --- | --- | --- | --- |
| Costs | – | $97.00/year | $197.00/year |
| Documentation | Yes | Yes | Yes |
| Member Support Forums | No | Yes | Yes |
| Developer Chats | No | Yes | Yes |
| Community Forums | No | Yes | Yes |
| Memberlite Theme | No | No | Yes |
| Premium Addon Downloads | No | No | Yes |
| 1-Click Add On Installs | No | No | Yes |
| 1-Click Add On Updates | No | No | Yes |
| Advanced Code Recipes | No | No | Yes |
| Webinars | No | No | Yes |
Paid Memberships Pro Dashboard
Here is a quick overview of Paid Memberships Pro dashboard:
Membership Level Configuration/Setup
In Paid Memberships Pro you have the flexibility of creating unlimited memberships level (Free or Paid) on daily, weekly, monthly or yearly basis. For a subscription type setup you can also configure free trial or custom length trial.
Membership Content Restrictions
When you are publishing a page you can select which membership level is required to view the content on this page.
You also have the option to partially protect content using a shortcode.
Members List
You can easily view all of your members from your dashboard.
Paid Memberships Pro controls each member via WordPress user account. This helps you view, filter and search members in a familiar interface.
Membership Discount
Paid Memberships Pro allows you to set specific rules to offer membership discount.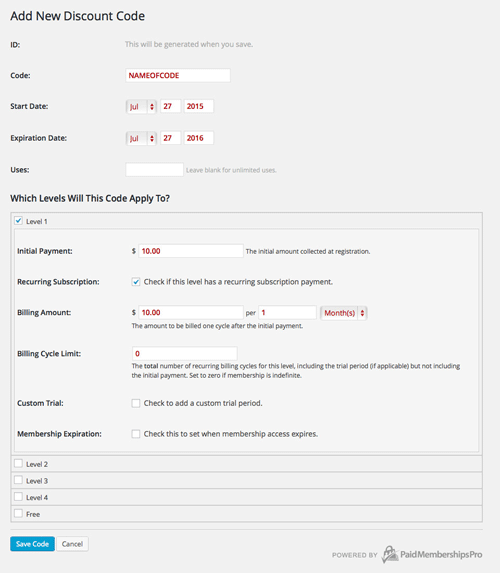 Membership Sales/Revenue
Paid Memberships Pro provides real time reports of your sales, visits, logins, signups, cancellations etc.
Advanced Membership Settings
You can customize various membership messages/texts in the advanced settings.
Sell Memberships
You can offer both free and premium memberships on your site using shortcodes.
Membership Account Management
You can manage membership account by showing/hiding certain sections.
Affiliate Plugin Integration
Paid Memberships Pro can be integrated with major affiliate plugins to set up an affiliate management system on your site.
Download Paid Memberships Pro
You can download Paid Memberships Pro from the plugins repository.
Feel free to share you thoughts on this plugin in the comments.
Disclosure: This page may contain affiliate links. If you follow one of those affiliate links and purchase something it will provide me with a little bit of a commission. This costs you nothing extra but helps maintain my site, free plugins, and themes. So I thank you for your support.