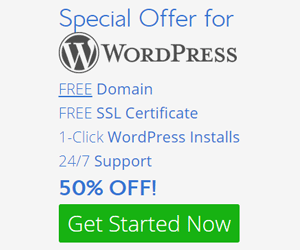 WordPress 4.8 "Evans" is now available. It contains a wide range of exciting features such as support for media widgets, improved visual editor experience, new TinyMCE for inline elements, revamp of the dashboard news, visual editing support for the text widget etc. Here is a brief discussion of some of these notable features that got shipped with WordPress 4.8.
Image Widget
WordPress 4.8 introduced a special image widget for embedding an image in the sidebar. You can simply insert your image right within the widget settings (just like media uploader) and it will appear in the sidebar automatically.
Audio Widget
If you are into podcasts or music, audio widget will allow you to insert your audio file right within the widget settings.
Video Widget
Video widget allows you to add a video to your sidebar right within the widget settings. With this widget, you can have like a welcome video for your visitors to establish the branding of your website.
Rich Text Widget
WordPress 4.8 finally introduced Rich-text editing capabilities for text widgets. This will make text widgets more useful for users who don't have experience in coding. Now you can just drag and drop a text widget into the sidebar and apply your own formatting such make text bold/italics, create links, create ordered/bulleted lists etc.
New TinyMCE for Links
Link editing has been very frustrating ever since WordPress introduced an improved TinyMCE for links. Links often get broken when you update or add text around it. Sometimes this new text that you are trying to add also ends up linked. In order to streamline this process, WordPress 4.8 introduced new TinyMCE for navigating in and out of inline elements like links.
Dashboard Revamp
WordPress 4.8 includes a revamp of the dashboard news widget to show nearby local events, upcoming events, meetups and WordCamps.
Under the Hood
Some other notable changes that will keep the developers interested,
Cleaner admin panel headings: New CSS rules have been included in the core for admin-area headings. This means extraneous content like "Add New" no longer need to be included in the admin screens.
Removal of embedding support for WMV and WMA files: WMA and WMV files require the presence of the Silverlight plugin in the MediaElement.js library (HTML5 audio/video player for the core). Unfortunately all the major browsers already started dropping support for the Silverlight plugin and as of MediaElement.js version 3.0 it's no longer supported either. This is why it's being removed from core support. All of your WMA and WMV files will now display as download links.
Multisite Updates: New capabilities checks have been added in WOrdPress 4.8 with an eye towards removing calls to is_super_admin(). Additionally, new hooks, network-specific site functions, and user count controls have been added.
JavaScript API for Text-Editor: With the addition of TinyMCE to the text widget WordPress 4.8 comes with a new JavaScript API for instantiating the editor after page load. This can be used to add an editor instance to any textarea and customize it with buttons and functions.
Media Widgets API: With the introduction of a new media widget REST API schema, WordPress 4.8 opens up possibilities for more media widgets such as galleries or playlists in the future. The three new media widgets (Image, Audio and Video) are powered by a shared base class that covers most of the interactions with the media modal. That class also makes it easier to create new media widgets and paves the way for more to come.
Customizer Sidebar Width Variable: New responsive breakpoints have been added to the customizer sidebar to make it wider on high-resolution screens. Customizer controls should now use percentage-based widths instead of pixels.
Hope you enjoyed reading about these upcoming changes in WordPress 4.8. If you have any questions feel free to share it in the comment section.
Do you know that you can get

50%

OFF WordPress hosting here for a limited time? Hurry now before this offer ends!