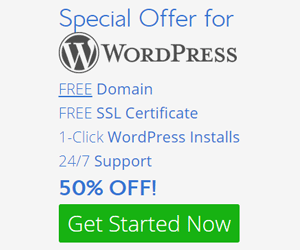 WordPress 4.8.1 is now available for download from your WordPress Dashboard. Even though It's a minor release this version contains 29 bug fixes and various enhancements. The most notable one is the introduction of a dedicated Custom HTML widget.
Custom HTML Widget in WordPress 4.8.1
The custom HTML widget works similar to the text widget. But it works better when you need to copy and paste some advanced HTML code such as a signup form or a 3rd party JavaScript widget.
The existing text editor has been improved to automatically detect HTML code and display a notice to use the "Text" tab instead.
If you are already on the "Text" tab it encourages you to use the new custom HTML widget for adding custom code your site.
Do you know that you can get

50%

OFF WordPress hosting here for a limited time? Hurry now before this offer ends!