Checkout for PayPal WordPress plugin connects PayPal to your WordPress website and makes e-commerce available for you. With this PayPal plugin, you can create smart payment buttons with a simple shortcode to accept PayPal payments from your customers.
Checkout for PayPal plugin uses the PayPal Checkout API to create a simplified and secure checkout experience for your customers. With one simple shortcode, you can add a PayPal smart payment button to your website that lets you accept PayPal, Pay Later, credit and debit card payments from any mobile device, tablet, or PC.
PayPal Pay Later
When eligible, your existing PayPal buttons change to show a new Pay Later button. When customers select Pay Later, they can pay with flexible, buy now, pay later financing offers.
PayPal offers short-term, interest-free payments and other special financing options that buyers can use to buy now and pay later, while merchants still get paid up-front. Because pay later offers are included with PayPal Checkout, you won't pay additional costs.
Pay later offers include the following:
Pay in 4, which buyers can use to pay for purchases in four, interest-free installments.
PayPal Credit, a revolving line of credit that buyers can use to pay over time.
Checkout for PayPal Info
Features
Accept PayPal, Pay Later (Pay in 4 and PayPal Credit) payments
No monthly fee
Accept credit card and debit card payments
Simplified and secure mobile checkout experience
Accept one-time payments
Simplified PCI compliance
Checkout with a click of a button
Accept payments in multiple countries and currencies
Checkout for PayPal Plugin Installation
Login to your WordPress admin dashboard
Go to Plugins->Add New
Enter Checkout for PayPal in the search box
Once you find the plugin hit the install button
Option 2
Download the zip version of the plugin
Go to Plugins->Add New and switch to the Upload tab
Select the zip file on your computer
Upload and install it
Option 3
Download the zip file and extract it
Connect to your website via FTP (you can use a software like Filezilla to transfer files to your server) and browse to the "/wp-content/plugins" folder
Select the folder containing the plugin files on your computer and upload it
Once all the files have been uploaded to your web server you can activate the plugin from the Plugins menu (WordPress admin dashboard)
How Does Checkout for PayPal Work?
Checkout for PayPal uses PayPal REST API to add smart payment buttons to your website. To Generate REST API credentials for the sandbox and live environments:
Log in to the Developer Dashboard with your PayPal account credentials.
On My Apps & Credentials, use the toggle to switch between live and sandbox testing apps (If you are creating a Sandbox app, you will also need to select a test business account that will act as the API caller).
Navigate to the REST API apps section and click Create App.
Type a name for your app and click Create App. The app details page opens and displays your credentials.
Copy and save the client ID and secret for your app.
Review your app details and save your app.
Log in to your WordPress admin dashboard and navigate to Checkout for PayPal > Settings.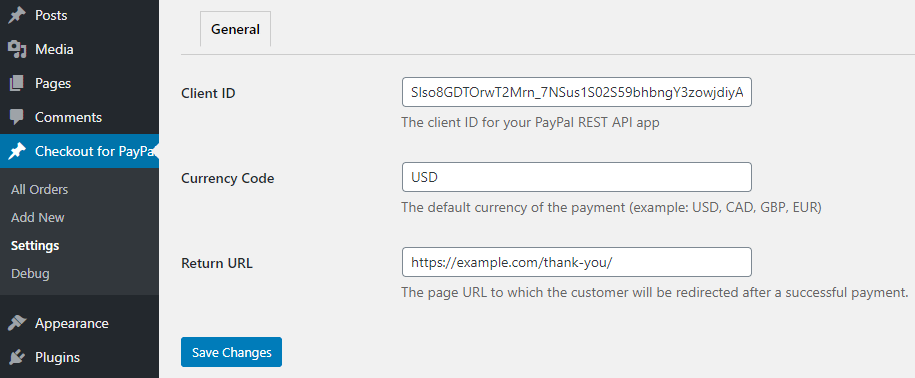 Enter the Client ID for your REST API app.
Enter the default Currency Code.
Enter a return page URL to which the customer will be redirected after a payment.
Click Save Changes.
In order to create a smart payment button, you just need to insert a shortcode and a price in the button parameter. The shortcode needs to be inserted into a shortcode block of the default WordPress post/page editor.
[checkout_for_paypal amount="3.99"]
PayPal Smart Payment Button Demo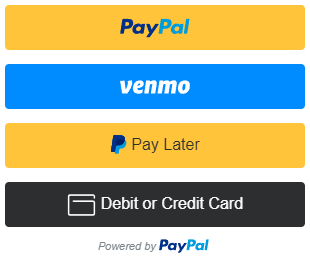 PayPal Button Customizations
Item Description
"item_description" parameter can be added to the shortcode to pass a description of your item to PayPal. For example:
[checkout_for_paypal item_description="My item description" amount="3.99"]
Return URL
"return_url" parameter can be added to the shortcode to redirect the customer to a specific page on your site after the payment. For example:
[checkout_for_paypal item_description="My item description" amount="3.99" return_url="https://example.com/thank-you/"]
No Shipping
If you do not want to prompt buyers for a shipping address you can use the "no_shipping" parameter in the shortcode. For example:
[checkout_for_paypal item_description="My item description" amount="3.99" no_shipping="1"]
Manage PayPal Orders
When you receive a new order it will appear in the Orders menu. You can then do the following to finalize it:
1) Send a purchase confirmation email to the customer (include download links if applicable)
2) Ship the goods

Disclosure: This page may contain affiliate links. If you follow one of those affiliate links and purchase something it will provide me with a little bit of a commission. This costs you nothing extra but helps maintain my site, free plugins, and themes. So I thank you for your support.